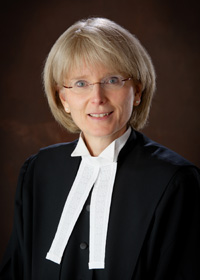 Justice Bich is a graduate of the Faculty of Law of the University of Montreal and of Harvard Law School. A member of the Quebec Bar from 1978, Justice Bich practised law until 1983 when she became a full-time law professor at the University of Montreal.
One of the most esteemed professors of the Faculty, Professor Bich taught labour and employment law to an entire generation of students. As a scholar, she published many leading articles, and continues to be one of the most frequently cited authorities on Quebec labour law.
During her career as an academic, Marie-France Bich also acted as a labour arbitrator. A number of her awards are considered today as important precedents on significant social issues such as the employer's duty to accommodate.
Appointed a judge in 2004, Marie-France Bich is regarded as one of the best minds on the Quebec Court of Appeal. The author of a large number of important labour and employment law decisions, she is widely respected for her "prolific and scholarly judicial decisions"; her "strong judgments and her streak of independent thinking" (Globe and Mail).
Recipient of the 2017 Bora Laskin Award.
---
Diplômée de la Faculté de droit de l'Université de Montréal (LL.L. 1977) et de la Harvard Law School (LL.M. 1980), membre du Barreau du Québec (1978 à 2004), la juge Bich a d'abord pratiqué le droit avant de joindre la Faculté de droit de l'Université de Montréal en 1983, à titre de professeure.
Membre très respectée de la Faculté, la professeure Bich a enseigné le droit du travail et de l'emploi à toute une génération d'étudiants. Elle a aussi publié, comme universitaire, plusieurs articles marquants qui figurent, encore aujourd'hui, parmi les autorités le plus citées en droit du travail québécois.
Tout au cours de sa carrière universitaire, Marie-France Bich a aussi agi comme arbitre de griefs. Certaines de ses décisions représentent toujours d'importants précédents relatifs à des enjeux sociaux cruciaux, dont l'obligation patronale d'accommodement.
Nommée juge en 2004, Marie-France Bich est considérée comme une des très grandes juristes actuellement au service de la Cour d'appel du Québec. Ayant signé plusieurs importantes décisions en droit du travail et de l'emploi, elle est particulièrement reconnue pour le caractère approfondi et exhaustif de ses jugements, la force et la conviction qui s'en dégagent et l'indépendance d'esprit dont elle fait preuve.