Mental Health Disabilities at Work: A Practical Guide for Employees, Employers and Unions
By Dr. Mike Condra and Meryl Zisman Gary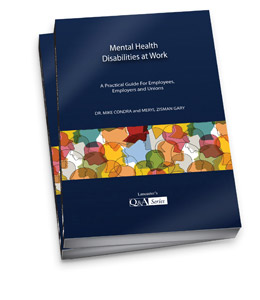 Authored by a clinical psychologist and a labour lawyer, Mental Health Disabilities at Work answers all of your questions, in practical and non-technical language, about mental health and mental illness in the workplace. Also covered are disability discrimination and the duty to accommodate, and privacy rights and medical information relating to employees with mental health concerns.
Features include:
concise coverage of 120 topics, organized in an easy-to-use question-and-answer format
authoritative commentary, supplemented by informative examples drawn from actual cases decided across Canada
summary tables setting out key information, including possible accommodations for employees with particular symptoms and functional limitations
useful sample forms, including a request for medical information, an employee medical questionnaire, and return-to-work and accommodation plans
Topics include:
the difference between temporary distress and mental illness
commonly encountered mental illnesses and associated functional limitations
the causal connection between the workplace and mental health
recognizing the signs of mental illness
practical tips for reaching out to a co-worker who may have a mental illness
the legal obligations of employers, employee and unions in the accommodation process
development of an accommodation plan
bona fide occupational requirements and the elements of undue hardship
attendance problems, disability-related misconduct, and relapses
the scope of permissible requests for confidential health information
the role of independent medical examinations
leaves of absence and return to work
responding to mental health crises in the workplace
Lancaster's Roadmap on Disability and the Duty to Accommodate in Canada
The Roadmap provides at-a-glance guidance that will enable you to navigate disability accommodation issues as they arise in the workplace.
Easy-to-follow graphics and concise text, supported by references to the leading cases.
A clear statement of applicable legal principles at each stage of the accommodation process
Perfect for posting or as a handy desktop companion.