Labour Arbitration in Canada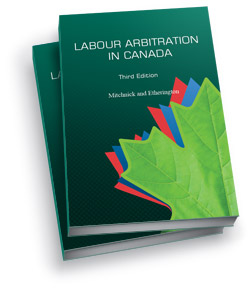 Based on Lancaster's popular service, Leading Cases on Labour Arbitration, this compact softcover text is an indispensable resource for all labour relations practitioners.
The newly issued Third Edition has been extensively revised and updated to reflect, in a convenient and easy-to-read format, the most recent developments in the law of labour arbitration. Organized into three broad headings – Evidence and Procedure, Discharge and Discipline, and Contract Interpretation – LABOUR ARBITRATION IN CANADA provides authoritative discussion and analysis of over 2,500 court, arbitral, and tribunal decisions, as well as relevant legislation.
Written by Mort Mitchnick and Professor Brian Etherington, two of the country's foremost arbitrators, LABOUR ARBITRATION IN CANADA features Canada-wide coverage of more than 150 topics, including:
Video surveillance
Violence, harassment, and bullying
Disciplinary offences and assessment of penalty
Drug & alcohol testing and other employer policies affecting privacy
Wages, benefits, and leaves of absence
Sick leave, medical examinations, and the collection of health information
Disability, family status, and the duty to accommodate
Probationary employees
Union representation and disciplinary procedures
Seniority, job postings, layoff and recall

Sexual harassment
Management rights
Assessment of damages for breach of contract or statute
Strikes and strike-related misconduct
Hearsay, privilege, onus of proof, and Charter evidentiary issues
Principles of collective agreement interpretation
Union rights and union responsibilities
Hours of work and other employment standards issues
Time limits, production of documents, and arbitration procedures
Attendance management
LABOUR ARBITRATION IN CANADA fills a longstanding need for an accessible yet comprehensive reference work in this field, in a portable format.
ALSO AVAILABLE…
Mitchnick and Etherington's Leading Cases on Labour Arbitration, recently updated to include current caselaw and legislative developments, is available in a one-volume loose-leaf format and an online version, purchasable separately at a price of $499, or a combined price of $599.
* With Lancaster's new e-books, you can easily carry our publications with you everywhere you go! Completely digital and filled with vital information, our e-books are available to be downloaded and used with your favourite e-book reader, computer, tablet or smartphone. Our EPUB files can also be easily converted into other formats (including ones compatible with the Amazon Kindle), using Calibre's free application.