Unionized Workplaces in Canada: Labour Laws and Contract Clauses
Jeffrey Sack & Peter Neumann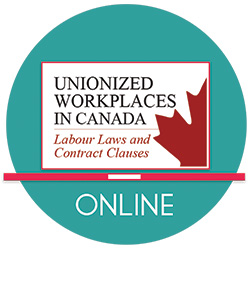 Unionized Workplaces is a comprehensive resource focusing on the law of unionized workplaces in Canada. It is an indispensable tool used by major unions and employers in both the public and private sectors, covering all facets of employee, union and employer rights and obligations.
Unionized Workplaces is available in an online format, easily searchable, and updated twice yearly.
Check out our highlights of the latest legislative changes and caselaw developments.
Authored by a team of labour lawyers, led by Jeffrey Sack, K.C., and Peter Neumann, Unionized Workplaces provides exhaustive coverage, in a searchable online format, of legislation and caselaw dealing with the unionized workplace, as well as a full range of collective agreement clauses actually in effect across Canada
Features include:
Authoritative text on 65 topics, organized in 23 chapters, addressing key issues including human rights, employment standards, health and safety, labour board, and arbitration law and practice
Detailed coverage of 600 workplace-related statutes, as well as thousands of decisions of arbitrators, tribunals and the courts
1,700 examples of contract language, relating to core bargaining issues, drawn from actual collective agreements, offering a wide range of solutions crafted by workplace parties
Links to summaries and full text of labour legislation and caselaw, in both the public and private sectors across Canada
Subscription
E-mail Customer Service or call (416) 977-6618.
Subscription price is for one year of access and includes regular updates.